Box E, Bristol - Restaurant Furniture
Friday, 4 November 2016 | Admin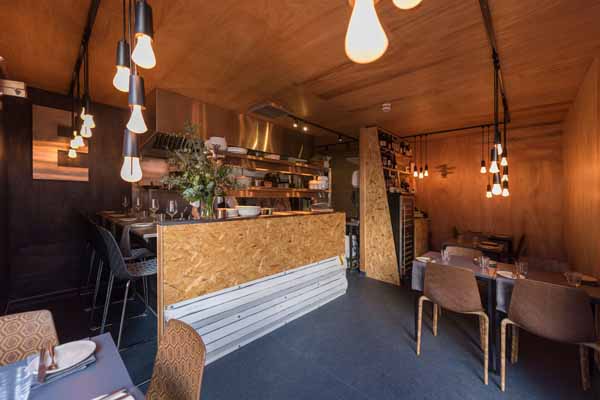 Summary
Box E is part of a new development on Wapping Wharf in the heart of Bristol.
"A 14 cover restaurant with 4 seat kitchen table in a pair of shipping containers."
Kirkhouse was contacted in June 2016 with a view to supply new seating and tables for the venue.
The Customer
The project was managed by Elliot & Tessa Lidstone of Box E.
Our Service
Kirkhouse were initially contacted with an enquiry for Alhambra bar stools. Alhambra is a broad range of designer seating including chairs and stools; as such the enquiry soon included the chair component.
Being very familiar with Bristol and the Cities culture, we felt that Alhambra was pretty much the perfect fit for this project.
Additionally we quoted for square dining tables, which we tailored to the clients requirements.
The complete furniture project was set out in CAD with regards to capacity, seating arrangements and through flow of traffic.
A finish catalogue for the seating was presented prior to order.
Outcomes
Box E opened late October 2016 and is a leisure project to be proud of. The client truly appreciate the design and quality of the furniture provided, particularly with regards to the seating. We are very glad to have been a part of the project and to see our furniture alongside other fantastic and complimentary interior design features.
Kirkhouse supplied: