Plastic Chairs & Cafe Tables - Kids Complex - Cambuslang, Glasgow
Monday, 27 October 2014 | Admin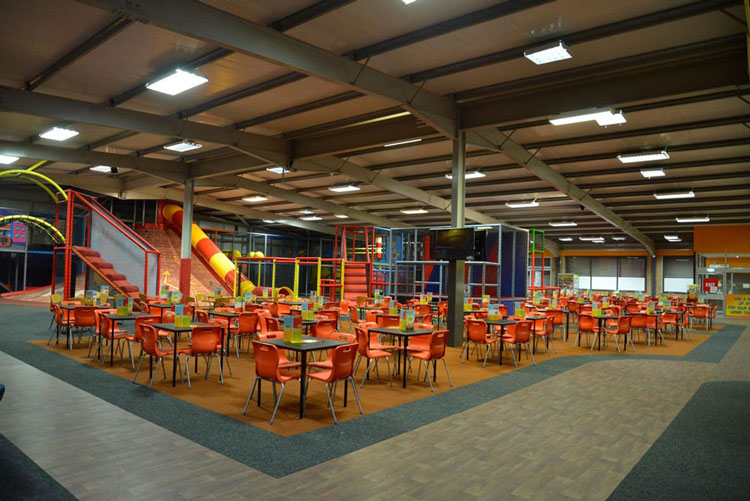 Summary
The client, Sam Ali, was establishing a new Soft-Play Centre with cafe / restaurant, in the Glasgow area. Kirkhouse was tasked with supplying seating and tables for the restaurant space, which would be durable, versatile and child friendly.
The Customer
Sam contacted Kirkhouse in good time, with regards to the whole project schedule. Trading Estate premises having been found and development being well on the way.
Kids Complex was a considerable investment, for which our product range and expertise was very well suited. The furniture specification was very clear and easy to work with, Sam having a very clear idea of what was required.
Our Service
Kirkhouse provided quotations for 5 solutions, covering a range of costs and styles. Each quotation was itself adaptable with regards to colour & finish specification, as the project developed.
Sam reduced our quotations from 5 seating products, to one, very quickly and on specification alone - no sample furniture was required.
From furniture enquiry to order, Kids Complex was a three month project.
Unique Aspects
Funding for the project was provided via Close Brothers Ltd. with whom we quickly established clear methods of payment acceptable to all.
Outcomes
As a new venture, one test of success for both Kids Complex & Kirkhouse, would be the second phase: If the project was a success then more furniture would be required.
An additional order was received within 12 months, Sam being very happy with the furniture supplied.
In total, Kirkhouse supplied 300 Titan chairs and 75 cafe tables.
Testimonial
"We are very happy about the quality of the chairs and tables provided by Kirkhouse Furniture. They are indeed an excellent value for money and I would highly recommend to buy them. We have been asked on numerous occasions about where we bought our furniture due to the quality and looks of the product. I love the colours because they go perfectly with our colour scheme and really make the place stand out. The service we got from Kirkhouse was second to none and delivery came in as promised. Definitely, the place to go to buy furniture for all my future projects." Sam Ali, Kids Complex