Skyline Trampoline Park - Cafe Furniture & Lockers
Friday, 22 June 2018 | Admin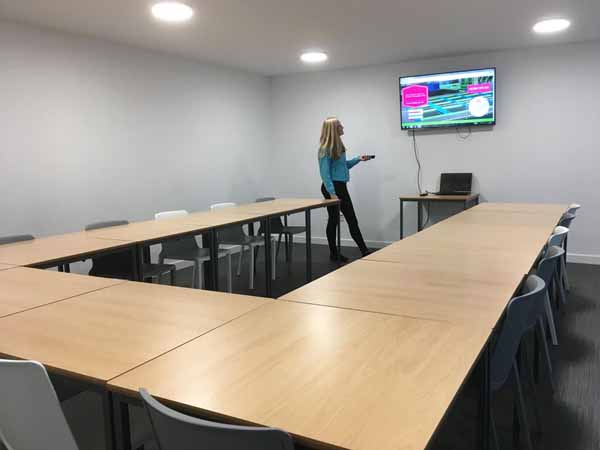 Summary
Skyline Trampoline Park in Inverurie is an entirely new venture that opened in July 2017. This large project entailed the complete fit-out of trampoline equipment, kitchen, cafe and associated leisure fittings.
Kirkhouse were contacted 3 months prior to opening, with a view to supply various furniture items.
Our Service
Having browsed the Kirkhouse website, the client contacted us with a general schedule of requirements. We immediately forwarded three quotations detailing chair & table solutions, one quotation for lockers and a further quotation for party room furniture.
The chairs and tables were required for both cafe space and meeting room use. The lockers were essential for visitors who might otherwise drop their valuables on the play equipment.
Of the three chairs initially suggested, there was a clear preference for Plaza model. An extremely robust design from the U.S., Plaza is well certified and includes various features ideal for the application.
Similarly our Premium Square Table was selected for use alongside Plaza chair. This four leg table offering great strength & stability at a good price point for the customer. Square tables were chosen for flexibility throughout the site, allowing for various configurations as required by the clientele. Our wide range of table finishes allowed the client to cleanly match the chairs & tables.
Lockers were arranged in line with the floor-plan, with special consideration as to the locking mechanism; standard locks being unsuitable for users who are unable to carry a key onto the equipment.
Folding furniture was recommended for the party rooms, allowing for the space to be easily cleared. A suitable height was specified allowing for use by a wide range of ages. Gopak Economy tables and benches were considered to be the most suitable.
Outcomes
In July 2017, Skyline Trampoline Park took delivery of chairs, tables, lockers and party room furniture.
Kirkhouse initially supplied:
Customer Comments:
Following further orders in June 2018, we asked Skyline Trampoline Park for their comments:
"Our plaza chairs are excellent. They are comfortable and durable and look as good as new a year on. They are perfect for our cement floors"
Most importantly, the chairs are not cold like metal ones and they do not make a screeching noise on our floors. The tables are great too, they are also like new".