Venue Chairs & Upholstery - The Brighton Centre - Brighton
Friday, 11 June 2010 | Admin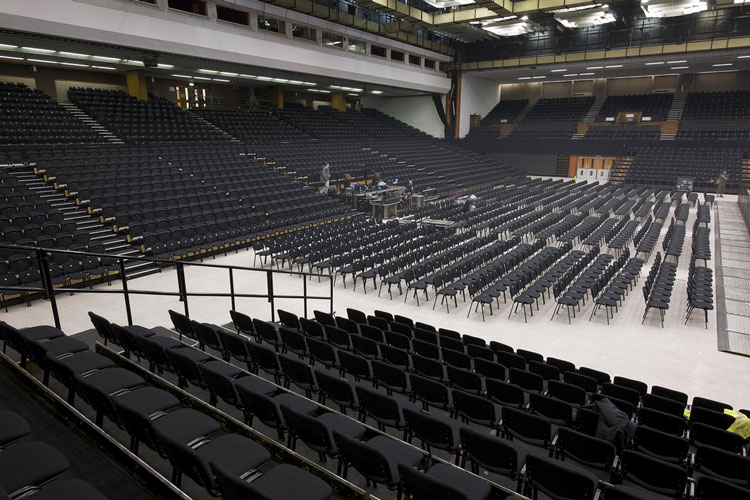 Summary
A large project for which Kirkhouse provided proposals, considered various avenues and a fulfilled specific requirements within budget and on time.
The Customer
The Brighton Centre is a large venue which attracts global artists and conferences. The project was effectively managed by a single contact within the organisation, who in turn co-ordinated the specification and ultimate delivery of our furniture.
Our Service
Kirkhouse were contacted in April 2010 with a modest request for conference chairs. During the earliest stages of our consultation, it was established that the venue required 2600 upholstered, stacking conference chairs. The client highlighted a design style, from which we provided quotations for a contract chair to suit the rigours of use within the versatile and heavily used main arena.
Initial proposals being accepted, we developed 3D drawings for adaptations to meet more complicated aspects of the brief. Following these draft plans, a sample chair was built in the clients preferred finish and quickly delivered to site.
As a viable supplier for the chairs, we were asked about the possibility of upholstering the extensive balcony seating.
In June 2010 we were instructed to fulfil the order in it's entirety.
Outcomes
The Brighton Centre is a good example of contract furniture at it's best. With our sales and production team, a suitable solution was established in good time. The client being familiar with large scale projects, was flexible and accommodating, resulting in an almost perfect installation within tight timeframes.
Kirkhouse supplied 2600 qty 607 chairs and 2176 qty replacement balcony seat & backs including on site fitting.