Wooden Stacking Church Chairs - St Barnabas Church - Epsom
15 September 2004 | Admin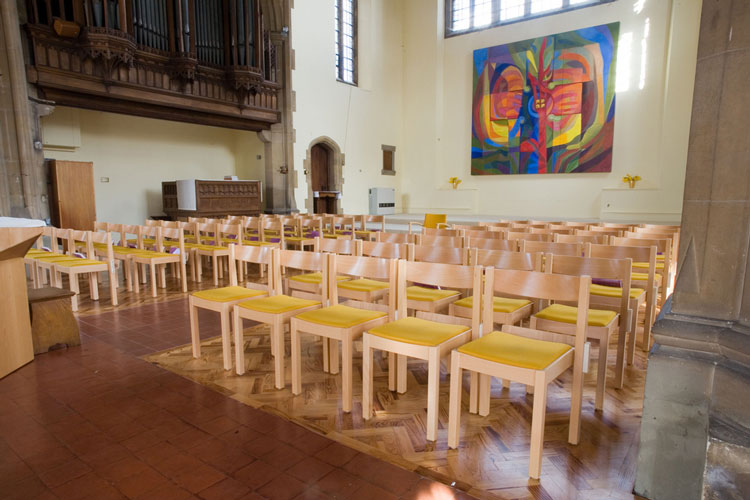 Summary
An elegant, enduring solution in keeping with the style of it's surroundings, whilst offering the flexibility of a modern worship area.
The Customer
St Barnabas Church, Epsom, was built c1908 and since that time has undergone two significant structural changes to the building.
The most recent building work also constituted the re-ordering of furniture & fittings, for which Kirkhouse was the preferred supplier.
A committee was established, with our main point of contact being Rev Michael Preston.
Our Service
Following initial telephone consultation, a catalogue and offer were issued with particular attention to the Balzar Beskow S-312 chair series.
Alternative models were briefly considered, however within two months, a broad decision to specify model S-312B had been reached. Upholstery cards were issued and further quotations with a breakdown of spec with regards to optional extras.
6 months from initial enquiry and following some extensive building work on site, a sample chair was ordered in the clients preferred finish.
The sample chair being approved, we were instructed to supply the full order of chairs for the main worship area, along with additional meeting chairs model KS-357.
Outcomes
S-312 series is an extremely flexible product, allowing for multiple options with no effect on the storage / stacking potential.
The church now boasts a modern, light and versatile space within the local community, encouraging greater use of the Church as a place for worship in a variety of ways.
Kirkhouse supplied 100 qty S-312B chairs with book racks & linking and 5 qty KS-357C armchairs.