Wooden Stacking Church Chairs - St Josephs Church - Epsom
Tuesday, 20 February 2001 | Admin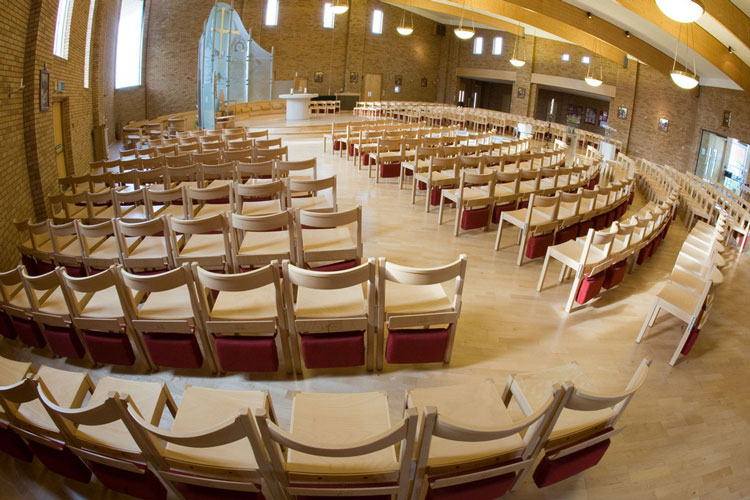 Summary
St Josephs Church, Epsom, opened it's doors in 2001. Kirkhouse was approached quite early in the build, with a view to supply modern wooden chairs for a modern worship space. Additional furniture would also be required throughout the large new building.
The Customer
From the clients website:
"St Joseph's is the Catholic Parish Church for Epsom in the Diocese of Arundel and Brighton. We are an active welcoming community, offering spiritual and pastoral support for everyone.
The first Catholic place of worship in Epsom was a cottage in Stanley Gardens in 1859, within 2 years work began in Heathcote Rd to build a church. Since that time, the congregation has grown and in 2001, St. Josephs church moved to it's current location in St. Margaret Drive to accomodate the increasing numbers of parishioners.
Located next to our parish primary school has meant the links between the church and the school have become stronger. Our parish family has grown together and the school has gone from single form entry to two form entry and our worshiping community is now the biggest in Arundel and Brighton."
Our Service
Following initial telephone consultation in 1999, a catalogue and offer were issued with particular attention to the Balzar Beskow S-312A chair.
Due to the size of the project, a site visit was arranged. Various sample chairs were provided, resulting in an initial order in February 2001.
Outcomes
The initial order comprised:
450 qty S-312A all wood stacking chairs with book racks & radius linking

220 qty Coronet stacking chairs

200 qty Advanced polypropylene chairs

36 qty Gopak folding tables

20 qty additional tables
Further orders were received in 2004 and 2009 - a testament to the quality of our product and service.